Since its establishment in 1959, we at Taiko Construction Inc. have been engaged solely in the construction business, and mainly that of Japanese traditional wooden structures, including shrines and temples, and have employed the philosophy and traditional techniques passed on by our predecessors.
Traditional architecture in Japan is designed and constructed to allow for even distribution of the entire materials load, specifically to account for the weight of the heavy roof tiles used, which often can add up to hundreds and thousands of tons in total. Therefore, it is not just the beams and joists, but also parts like masugumi (square framing), koryo (arched beams) and tabasami (rafter struts), that are seen as important elements in weight distribution. We have also valued the great benefits of wood as a material, such as the aroma, warmth and relaxation effects, and have exploited our traditional techniques, expertise and knowledge in this regard. We will continue to take this stance into the future, and hope we can be of help to more clients in realizing their dreams for their own home. We fully intend to keep improving on our skills and developing trusting relationships in order to play an important role in society.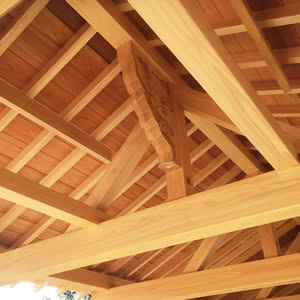 ---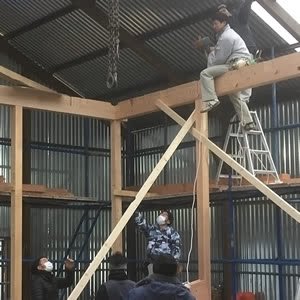 With modern housing building, many of the materials are now produced in factories, which means craftsmen have fewer opportunities to exploit the skills that have been passed down to them through the generations. However, we believe it is necessary to keep working on the traditional buildings and cultural properties that are made by the hands of craftsmen in order to provide opportunities for young apprentices to continue to develop the techniques. Traditional carpenters construct the framework of these buildings with pillars, beams and joists individually crafted and positioned, and the ceilings, alcove posts, thresholds, and head jambs finished in the same way. They even do the carving for shrine and temple decorations following the same principles. Traditional plasterers lay bamboo latticework as the foundation for plaster surfaces to allow them to breathe. This technique has become something of a rarity due to the growth of modern external wall materials and wallpapers, but it is considered essential to master plasterers nonetheless. Likewise, as traditional architecture did not make use of aluminum frames, joiners still play a very important role. In order to preserve these traditional techniques, we believe it is vitally important to allow young apprentices to take part in actual construction work on shrines, temples and teahouses.
---
Shrines, temples and other forms of traditional architecture

Specialist carpenters for shrines and temples conduct inspections, repairs and restoration work, which is required for the protection and maintenance of cultural properties. At our company, we employ both traditional construction methods as well as the more contemporary ones, such as structural quakeproofing

General residential properties/Extensions or reconstructions

We provide authentic houses with a Japanese heart and soul, under the key phrase "fusion of tradition and new techniques."

Teahouses and sukiya-style architecture

"Sukiya" actually means "teahouse." This architectural style is simple and imbued with the concepts of "wabi" and "sabi". "Wabi" means "simple beauty" and "sabi" refers to an old beauty hidden in abandoned things. This style features the combination of natural materials and delicate designs, and our company has been involved with work on a number of teahouses of different schools.

We can provide a wide range of options for a variety of construction works.

Renovation
We can provide the solid skills necessary for room renovations, for example, kitchens, bathrooms, toilets and washrooms, and at very reasonable prices.